One of the best ways to grow your Shopify stores' sales is by offering quantity breaks. Always remember, every customer wants a good deal—regardless of the service or product. Quantity breaks encourage customers to purchase more products and save more money. As a result, this gives the customer more choice and more turnover.
In this article, we'll show you why quantity breaks are perfect for your business and how best to use them.
The Benefits of Using Quantity Breaks
They're a Great Way To Boost Sales
There's a famous saying in business: sales cures all. The incredible thing about quantity breaks is that they'll boost your sales. Why? Because customers will see how much money they can save if they buy more products. With the holiday season coming soon, you can expect many customers to see immense benefits from volume discounts.
Can Accelerate Slow Moving Items
Do you have any slow-moving items in your inventory? Most eCommerce business owners have been there. Here's the good news: quantity break is an excellent way to sell any slow-moving items. After that, you don't have to worry about specific items clogging up your inventory during busy periods like the holidays.
Simple To Use
As an eCommerce platform owner, the last thing you want is to waste time trying to set up complicated discounts on your website. Instead, you want to focus on running the business through busy holiday periods. The entire process becomes straightforward and seamless when you use a quantity breaks app on Shopify.
Start Your Sale Immediately or Schedule It
Quantity breaks are superb for planning your sales strategy. With the best quantity breaks app on Shopify, you can begin your sale whenever. If you wish to postpone it into the future or when the holidays start, that's no problem either. Quantity breaks make it simple and all from one dashboard.
Choose Different Promotions
When you use quantity breaks, you have vast scope to choose the promotion you'd like to run. For example, you could choose a buy one get one, volume, or mix and match. In addition, your discounts could be percentage or money based. It depends entirely on your goals, but quantity breaks will make tiered pricing simple.
Raises Your Competitive Value
Presenting your products at a reduced rate through quantity breaks can put you ahead of your competition. After all, what will turn customers towards you? You need excellent offers that match or beat your competition. Quantity breaks enable you to raise your competitive value by generating eye-catching volume discounts during competitive holiday periods.
Appeals To a Wide Audience
Quantity brakes enable you to grow your customer base because it appeals to a broad audience. This includes small businesses that need to purchase more products. If the company has future scaling in mind, you're tempting them to buy more by offering tiered pricing.
Companies That Use Quantity Breaks
A Little Hemp
A Little Hemp is a British cannabis company with quantity breaks on its website. By using volume discounts, they're able to sell more CBD and THC products, vaping products, and hemp coffee to their customers.
Kodiak Wholesale
Kodiak Wholesale is an American company selling custom logo products to customers. It's the perfect business for quantity breaks because schools and businesses use logos on merchandise and love to buy in bulk.
Tufting Love
Tufting Love is a Swiss company selling premium tufting supplies, including tufting cloth and yarns. Tufting is a textile that helps create many items. Therefore, customers love to buy in large quantities through volume discounts.
JustElle
JustElle is a website that empowers women and gives them a daily edge in life. Their eCommerce platform uses quantity breaks to help sell beauty products in large quantities.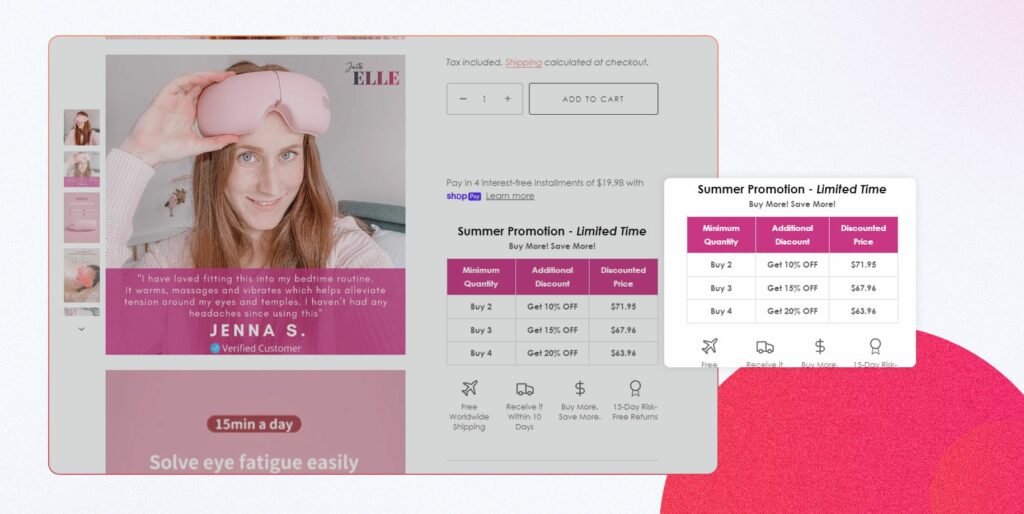 The Best Way To Use Quantity Breaks
Now you understand the benefits of using quantity breaks—it's time to use them in your eCommerce store. The best way to add volume discounts is via a third-party Shopify app.
The best quantity breaks application will include:
The option of various promotions
A 1-click upsell button
Optimization for all devices
Country-specific discounts
The option to schedule your promotions
24/7 live app support
Fully compatible with AJAX carts
In Summary
If you have a Shopify store, you must utilize quantity breaks. They can boost your sales, drive customer retention, push out slow-selling items, raise your competitive value, and grow your customer base.
Most importantly, with the right app from the Shopify store, quantity breaks are simple to use. You can then sit back and watch the sales come in.
Try Bulk Discounts Now, free for 14-Days.